Skincare Starter Kit (Naam Face Oil & Turmeric Face Soap)
Sale price

RM 25.90

Regular price

RM 0.00
Share
Naam skincare starter kit - an ideal introduction to organic clean beauty.
This skincare duo features Naam Face Oil and Naam Turmeric Face Soap - offered in convenient, to-go packaging for wherever you go.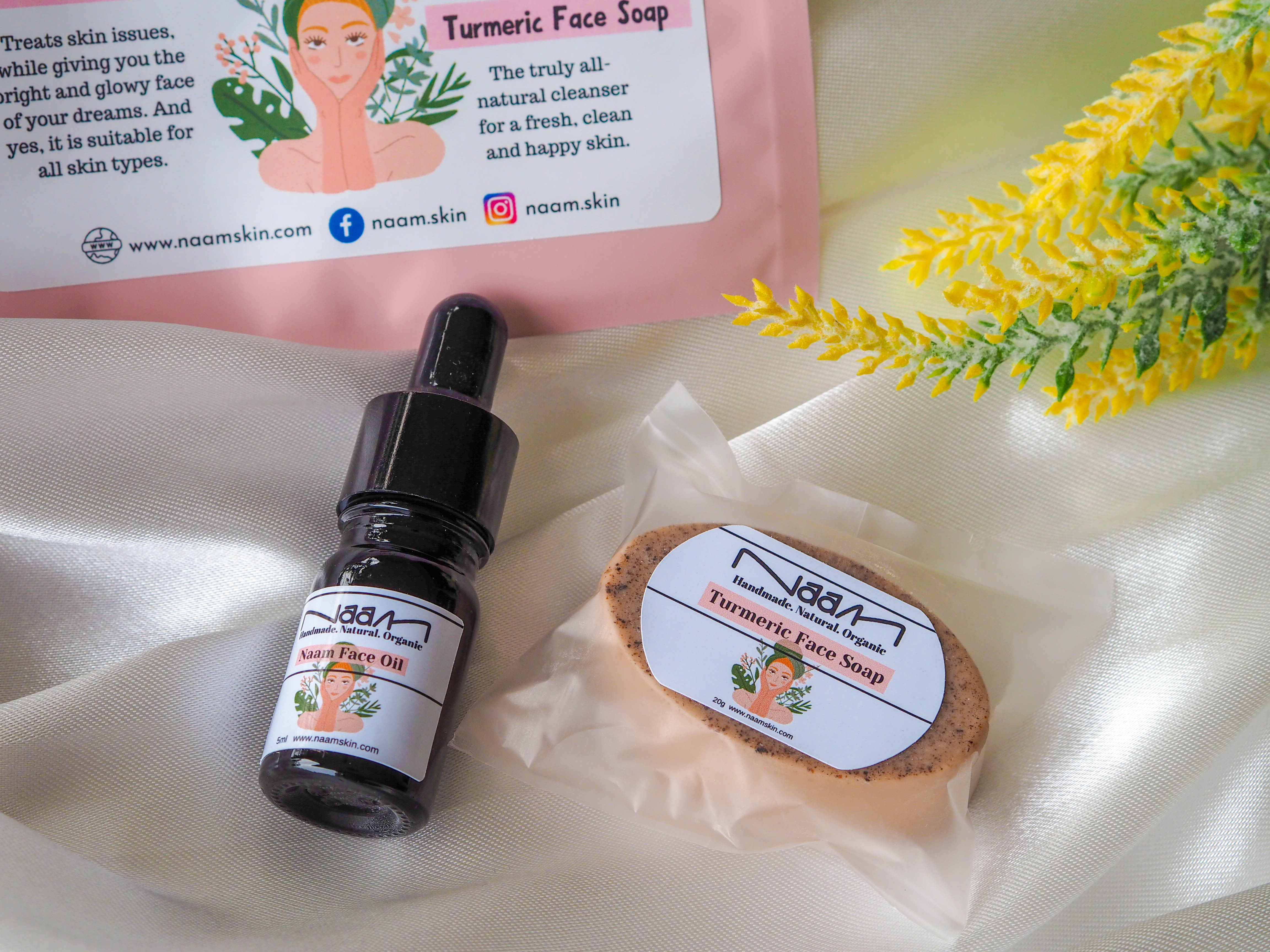 Naam Face Oil - One product that can actually treat your skin issues, while giving you the bright, glowy clear face of your dreams. And yes, it is suitable for all skin types.
The formula is designed to absorb quickly into the skin to smoothen, nourish and brighten skin while providing a natural glow. Skin feels softer, smoother, well-hydrated, and plumper. The visible effects of sun damage and scarring will reduce.
The decadent blend of skin-loving oils - your skin will feel instantly moisturized and look as radiant as ever with just a few drops.
This antioxidant-rich oil not only can be used as daily moisture boost to protect and hydrate skin. It can also be used as a priming oil for glowing skin before make up application. They are beyond multipurpose. Its also amazing for makeup touch-ups - instead of adding more makeup, pat some face oil on to revive the make up you've already got on.
Naam Turmeric Face Soap - The truly all-natural cleanser for fresh, clean, and happy skin.
Having turmeric powder and red sandalwood powder as its main ingredients, Naam Turmeric Face Soap is rich with anti-inflammatory and antioxidant properties. This all-natural vegan handmade soap is best for Acne Skin Type.
Turmeric, the sunset yellow spice - anti-inflammatory, anti-microbial, and antioxidant properties.
These properties help to heal the wound, prevent breakouts and lessen active ones also help to fight against eczema and psoriasis. Curcumin, a powerful antioxidant component in turmeric; brightens, improves skin complexion, and rejuvenates dull-looking skin bringing out its natural glow.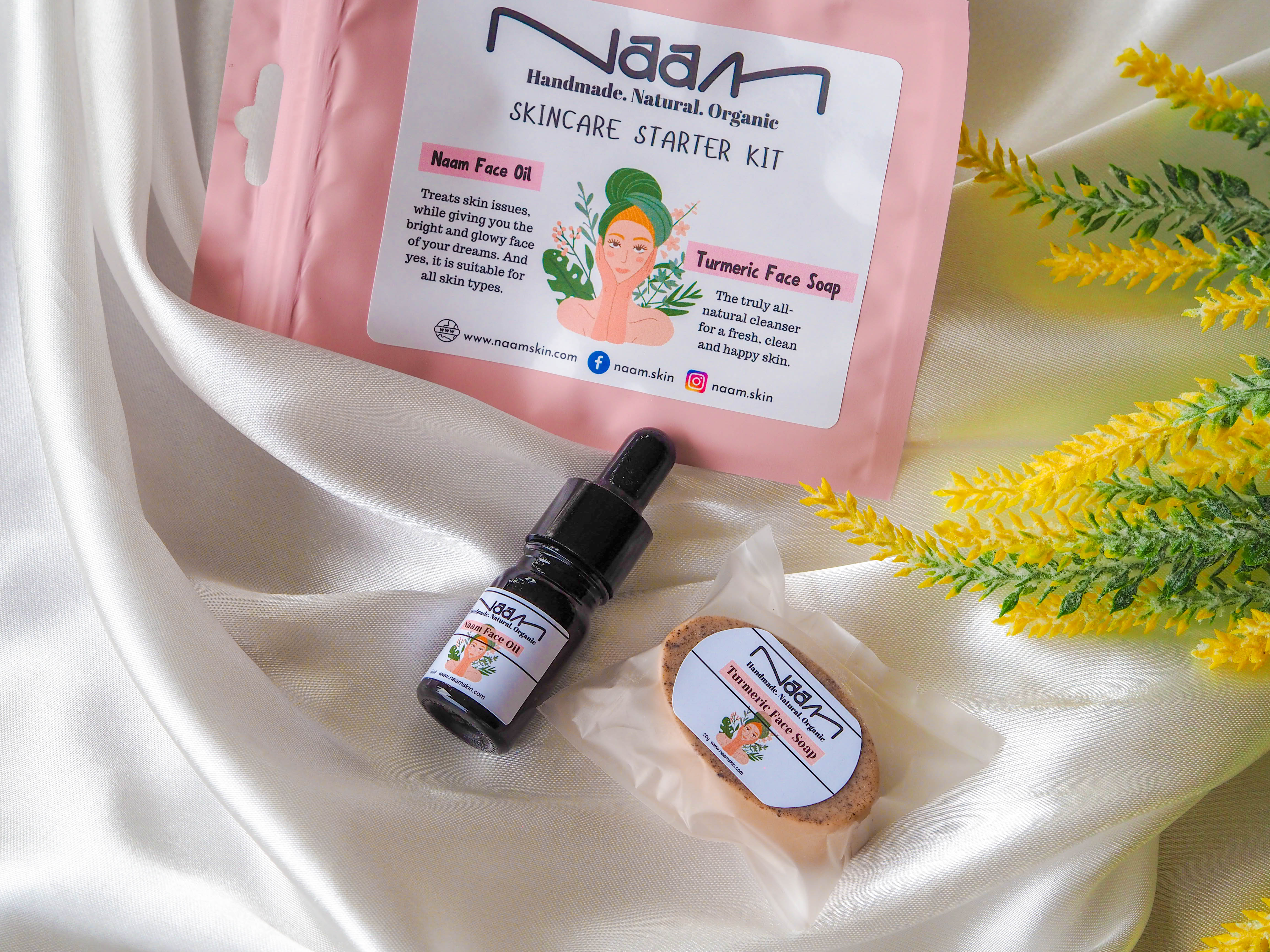 Active Ingredients
Naam Face Oil :
Jojoba Oil, Red Raspberry Oil, Frankincense Oil, Rose Essential Oil
Naam Turmeric Face Soap :
Jojoba Oil. Aloe Vera Liquid. Turmeric Powder. Red Sandalwood Powder. Tea Tree Oil.
How to use
Face Oil
Apply face oil on clean skin by gently pressing on the face and then décolleté rather than rubbing it in. Try it when your face is damp, as applying it on wet skin will lock in moisture.
Warm - Warm 2 - 3 drops of face oil in between your palms. Warm it in your hands to bring it up to the temperature of your skin and help it take effect instantly.
Apply - Gently dap it and slowly press with your palms onto your face until it absorbs.
Use a small amount to start (a drop or two) and build up if you need more.
Add a few drops of face oil to your moisturizer or apply the face oil and layer it with moisturizer.
You can also use it under your SPF sunscreen in the morning or blend 2 - 3 drops with your foundation while applying make up.
Soap
Wet your face with lukewarm water. Lather soap in hands. Massage lather onto skin with a gentle, circular motion. Rinse off with lukewarm water.
What's in the starter kit?
Naam Face Oil (5ml)
Naam Turmeric Face Soap (20g)
Exp: 1 Year After Opening + www.naamskin.com