Skincare Starter Kit (Detoxifying Facial Mask & Turmeric Face Soap)
Sale price

RM 19.90

Regular price

RM 0.00
Share
Naam skincare starter kit - an ideal introduction to organic clean beauty.
Best for acne-prone skin, this cleansing duo features Naam Detoxifying Facial Mask and Naam Turmeric Face Soap - offered in convenient, to-go packaging for wherever you go.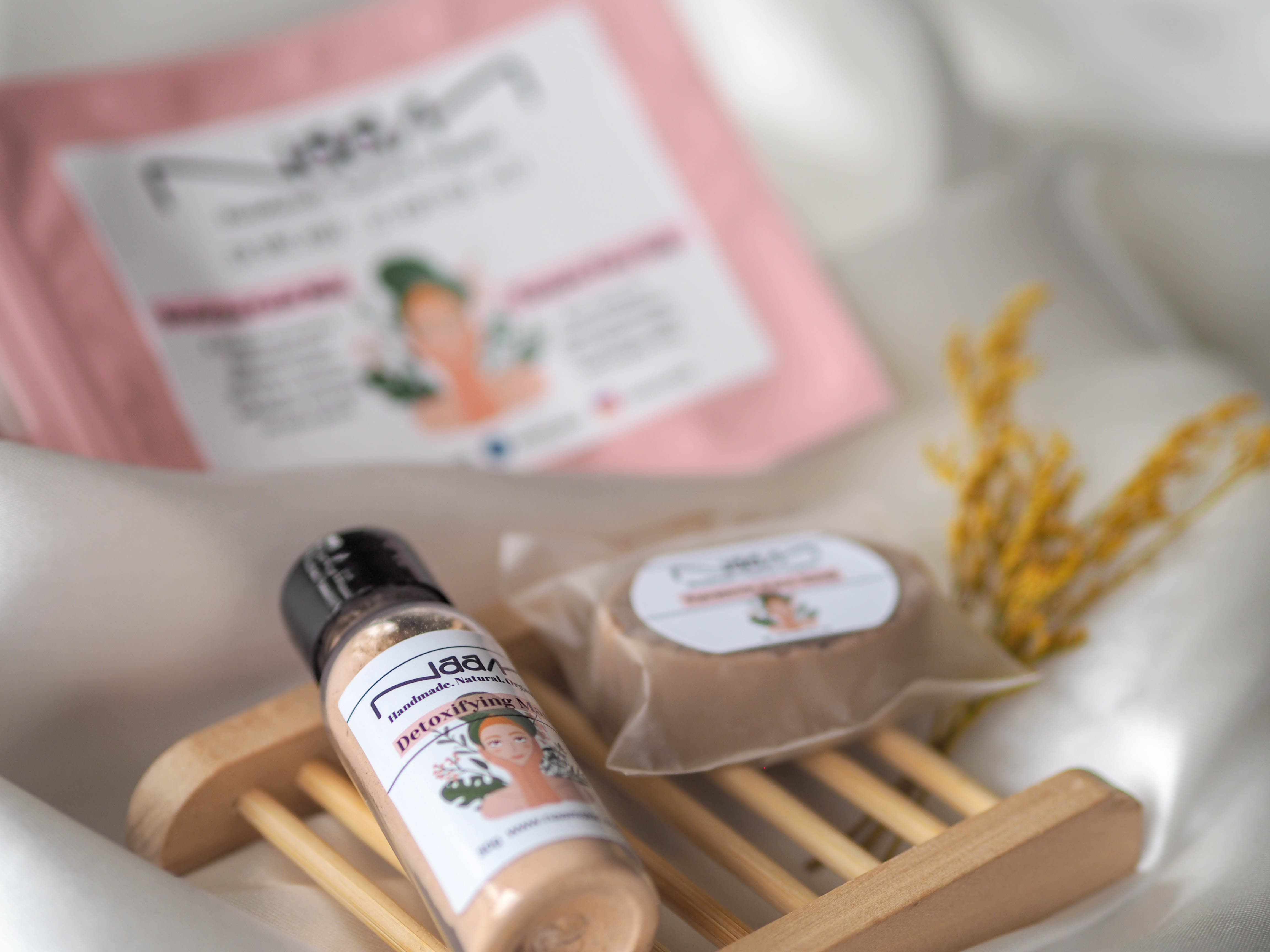 Naam Detoxifying Facial Mask - more than just a mask. NAAM Facial Mask also functions well as a cleanser, exfoliator, and spot-on acne patch.
Naam Detoxifying Mask helps draw out dirt and pore-clogging impurities as well as absorb excess oils that are on the surface of the skin.
Rice powder-rich texture makes it an excellent natural ingredient to be used as the fine particles help the flaky dead skin cells leave your skin in an easier way. Rice powder absorbs all the sebum and leaves your skin clean, smooth, and re-energized.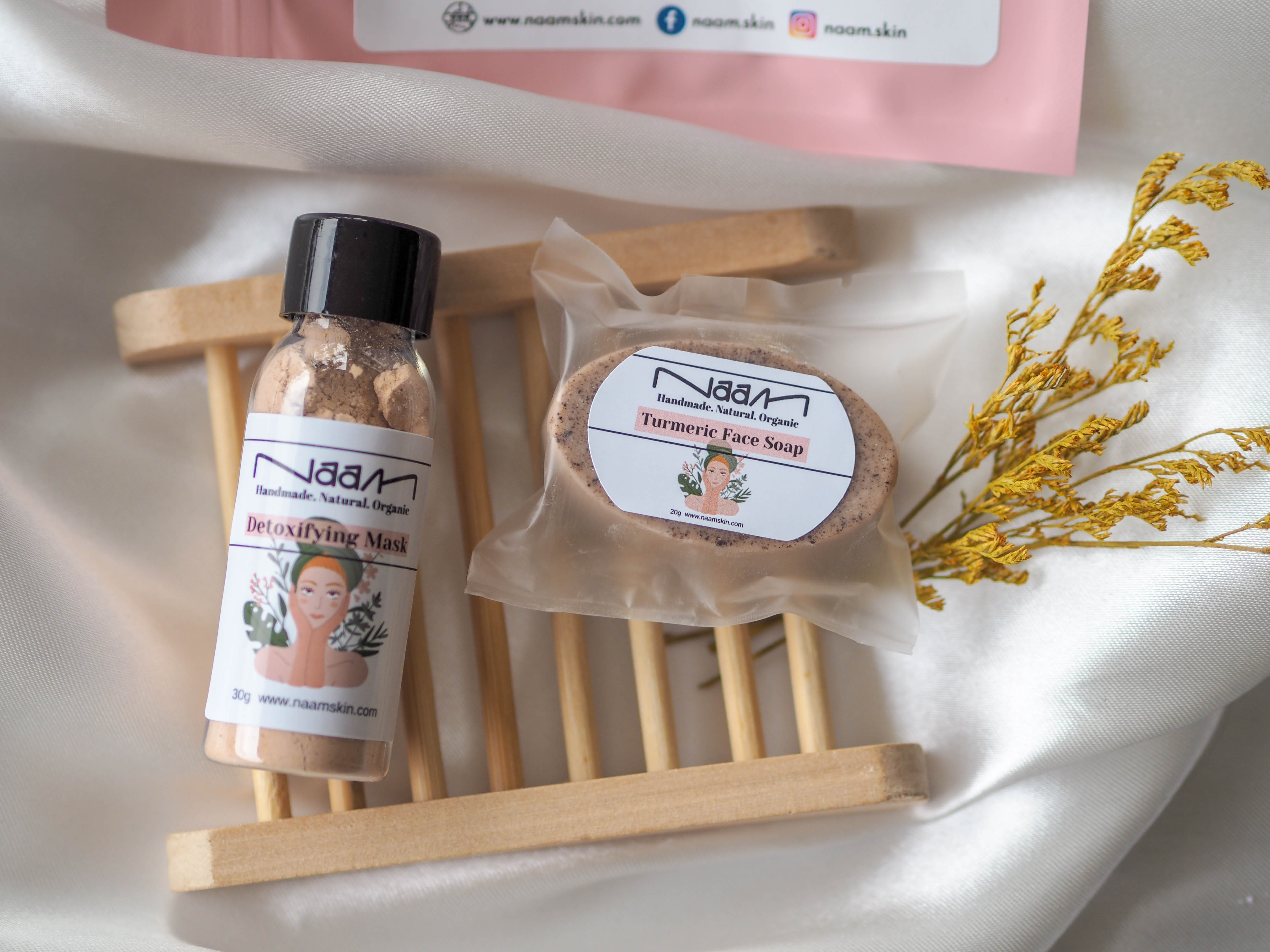 Naam Turmeric Face Soap - The truly all-natural cleanser for fresh, clean, and happy skin.
Having turmeric powder and red sandalwood powder as its main ingredients, Naam Turmeric Face Soap is rich with anti-inflammatory and antioxidant properties. This all-natural vegan handmade soap is best for Acne Skin Type.
Turmeric, the sunset yellow spice - anti-inflammatory, anti-microbial, and antioxidant properties.
These properties help to heal the wound, prevent breakouts and lessen active ones also help to fight against eczema and psoriasis. Curcumin, a powerful antioxidant component in turmeric; brightens, improves skin complexion, and rejuvenates dull-looking skin bringing out its natural glow.
Active Ingredients
Naam Detoxifying Facial Mask :
Rice Powder. Gram Powder. Organic Turmeric Powder. French Red Clay. Organic French Pink Clay.
Naam Turmeric Face Soap :
Jojoba Oil. Aloe Vera Liquid. Turmeric Powder. Red Sandalwood Powder. Tea Tree Oil.
How to use
Soap - Wet your face with lukewarm water. Lather soap in hands. Massage lather onto skin with a gentle, circular motion. Rinse off with lukewarm water.
Mask - Make a smooth paste by mixing 1 to 2 tablespoons of Naam Detoxifying Mask either with water, milk, or yogurt. Wash your face, apply gently, and let it sit for 10 minutes. You will feel a pulling and tightening sensation. Rinse off with warm water, pat dry. Discard excess. Recommended to be used twice or three times a week.
What's in the starter kit?
Naam Detoxifying Mask (30g)
Naam Turmeric Face Soap (20g)
Exp: 1 Year After Opening + www.naamskin.com