How many candles are too many? The limit doesn't really exist. One of the simplest ways to make any space feel like a retreat is with a collection of candles that spark joy, whatever perfect your scent profile may be.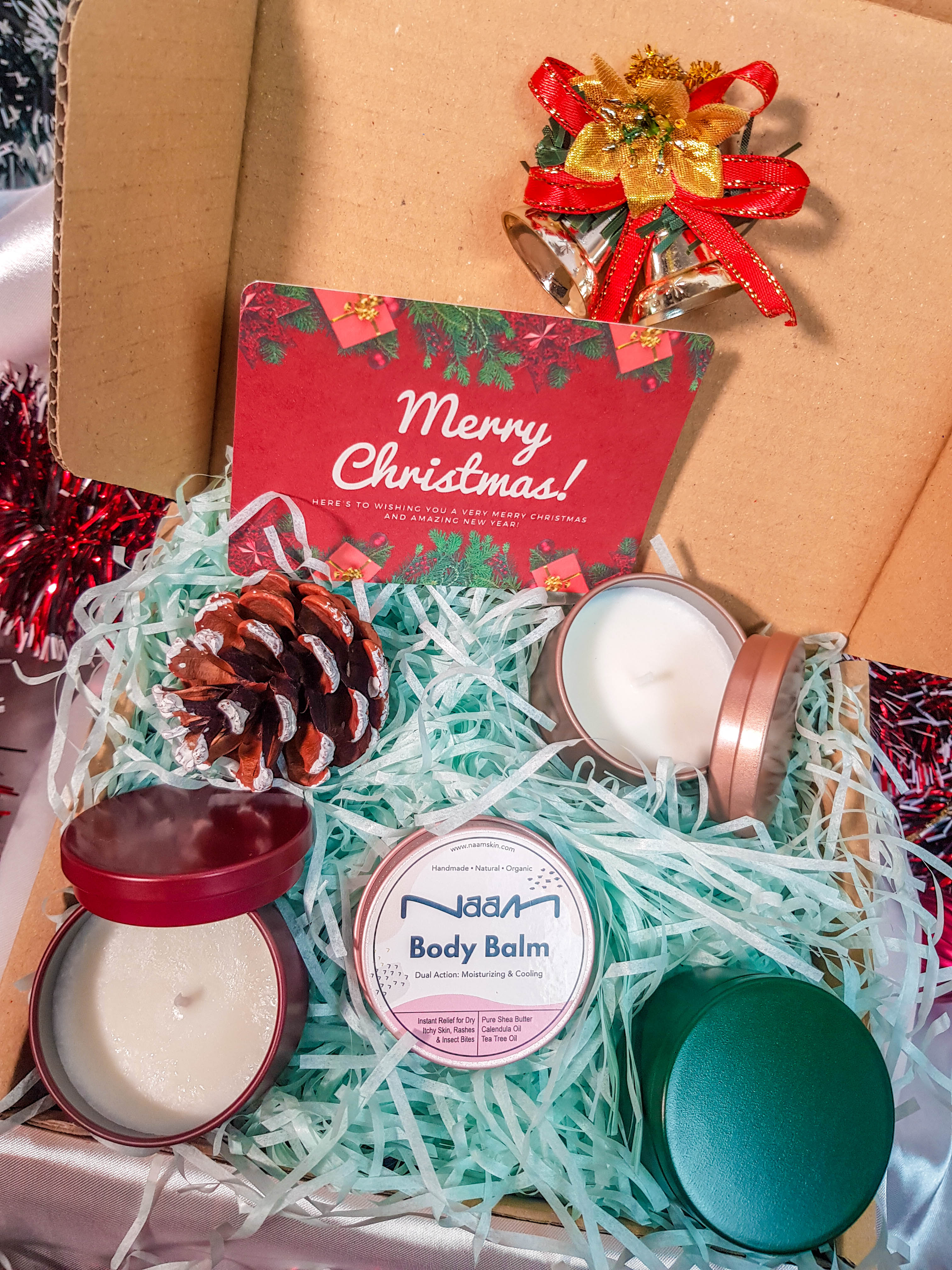 Whether you're sending this as a thoughtful gift or saving it as a treat for yourself, indulge the senses with these mini candles that are meant to transport you to another place and time. It's a treat you will treasure for many months to come.
What's in the box?
1 x Naam Body Balm 20g
1 x Candle Timeless Romance (40g, burning hours : up to 8 hours)
1 x Candle Into The Moonlight (40g, burning hours : up to 8 hours)
1 x Candle Wild Botanic (40g, burning hours : up to 8 hours)
Christmas Greeting Card
Candle Care Card
Choices of candle scents :
• Timeless Romance
Evoke cherished memories of family, friendship, and love with these sensual notes of wild rose bouquets and soothing vanilla.
( Fragrance note : Sunrose & Vanilla )


• Into the Moonlight
Escape into calmness, serenity, and comfort with this salty ocean air and heavenly floral heart scent.
( Fragrance note : Lavender & Ocean )

• Wild Botanic
Fresh and invigorating, while also being warm and spicy. This blend reminds us of fresh morning dew in the garden.
( Fragrance note : Rosemary & Peppermint )
Following Candle Care helps to ensure product quality + longevity. We highly recommend following each of the following steps:

• Trim your candle's wick to 1/4" before each lighting or once your candle has cooled.
• Never attempt to trim a burning candle.
• Discard the snipped portion in the trash; never leave wick trimmings in your candle jar.
• The wick should always remain centered and away from the sides of the vessel.
• Allow the wax to melt to the edges of the jar during each burn to prevent tunneling.
• Once the candle's gone, we hope you'll re-use it. Clean it out and you've got a new planter or pencil holder – or whatever you want!

Safety first - because candles burn and contain a small flame, so we encourage following these rules of thumb:

• Never leave a candle burning unattended, near a draft, or in reach of children or pets.
• Don't burn your candle for more than 4 hours at a time.
• Do not allow your wick to curl over, as this can create a larger than normal flame.
• Stop burning your candle when only 1/4" of wax remains.
• Do not pick up a burning candle or immediately after it's been blown out.
• Protect the surface underneath the candle no matter the material
Active Ingredients :
Shea Butter, Calendula Oil, Pure Tamanu Oil, Spearmint Essential Oil


How To Use :
Apply on affected area as needed throughout the day.
CAUTION : For external use only. If irritation develops, discontinue use. Avoid contact with eyes.