Treat yourself or your loved ones to this gorgeous gift box containing our best seller lip care set (Strawberry Lip Scrub and Strawberry Macadamia Lip Mask) and our limited edition candle.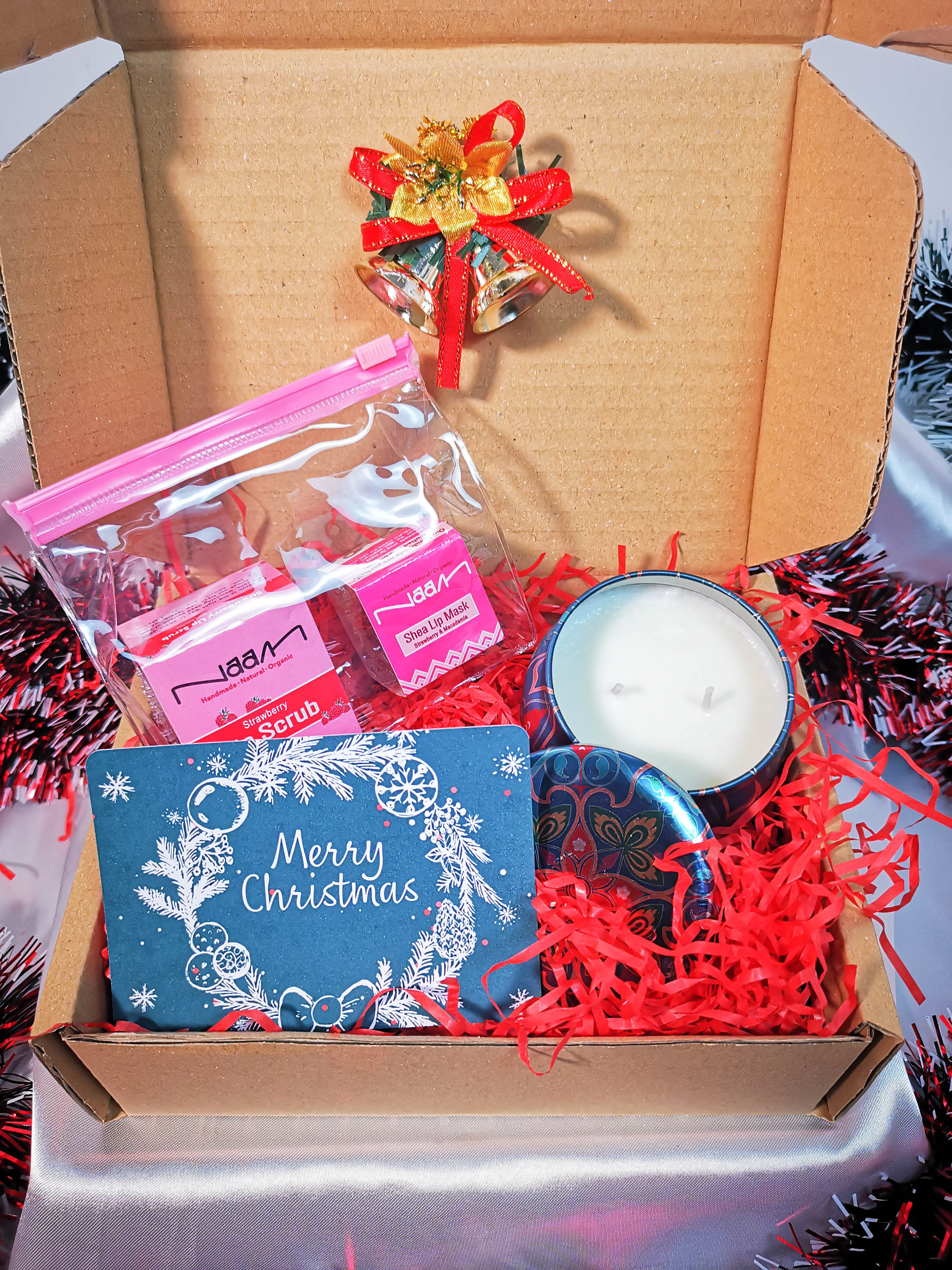 What's in the box?
1 x Naam Strawberry Lip Scrub 20g
1 x Naam Strawberry Macadamia Shea Lip Mask 7g
1 x Lip Care Set Bag
1 x Candle ( 130g, up to 40 burning hours)
Christmas Greeting Card
Candle Care Card
Candle scent :
• Timeless Romance
Evoke cherished memories of family, friendship, and love with these sensual notes of wild rose bouquets and soothing vanilla.
( Fragrance note : Sunrose & Vanilla )



Following Candle Care helps to ensure product quality + longevity. We highly recommend following each of the following steps:

• Trim your candle's wick to 1/4" before each lighting or once your candle has cooled.
• Never attempt to trim a burning candle.
• Discard the snipped portion in the trash; never leave wick trimmings in your candle jar.
• The wick should always remain centered and away from the sides of the vessel.
• Allow the wax to melt to the edges of the jar during each burn to prevent tunneling.
• Once the candle's gone, we hope you'll re-use it. Clean it out and you've got a new planter or pencil holder – or whatever you want!

Safety first - because candles burn and contain a small flame, so we encourage following these rules of thumb:

• Never leave a candle burning unattended, near a draft, or in reach of children or pets.
• Don't burn your candle for more than 4 hours at a time.
• Do not allow your wick to curl over, as this can create a larger than normal flame.
• Stop burning your candle when only 1/4" of wax remains.
• Do not pick up a burning candle or immediately after it's been blown out.
• Protect the surface underneath the candle no matter the material
Active Ingredients :
Strawberry Lip Scrub (20g) :
Pure Olive Oil. Pure Avocado Oil. Organic Strawberry Powder. Fresh Strawberry Extract.
Strawberry & Macadamia Shea Lip Mask (7g) :
Pure Shea Butter. Organic Strawberry Powder. Macadamia Nut Oil.
How to use :
Massage your lips with this scrub in a circular motion, not more than a minute. Wash your lips with water and apply Shea Lip Mask. We suggest exfoliating twice a week.